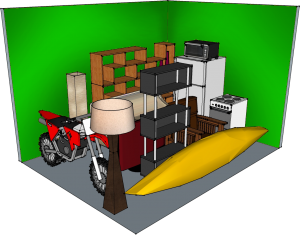 With our 10 foot by 13 foot Climate Controlled storage units you'll be able be fit several rooms worth of items in to this secure storage unit. From washers and dryers to prized collectables like signed baseball cards and more. QC-Storage has you covered. We are located in Davenport, Iowa. Close to Moline, IL. You won't have to worry about liquids freezing. No need to worry that your prized stamp collections becoming a complete loss because they go thought climate shifts in an average storage locker. Your items will stay room temperature all year around.
Please see our price list for this unit and others. You may also be interested the security improvements that we have just made: Roll-up metal doors, keypad gate entry, 24 hour access year around and many more amenities!
QC storage also has other climate controlled storage unit sites available as well. Please see the smaller 5′ x 8′, 8′ x 10′ and an even larger 10′ x 20′ unit.
Cost of this unit:
$119.00