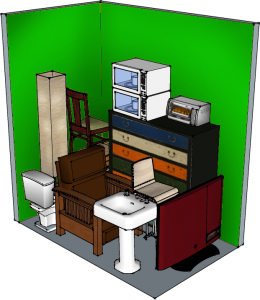 Looking for a great price on a 5 foot by 8 foot Climate Controlled storage unit to store your prized possessions? We've got you covered at QC Storage in Davenport, Iowa! Our 5′ x 8′ is great for people who need a smaller area that will keep there collector items safe and at a stable temperature through Iowa's wide range of climate changes throughout the year.
Maybe this size unit is a bit too small to fit your storage needs. We also have an 8'x 10′ for larger items. Plus 10′ x 13′ and 10′ x 20′ for much larges items or rooms that could located in our secure units. All of our Climate controlled units come with indoor access.
Please see our price list for this unit and others. You may also be interested the security improvements that we have just made: Roll-up metal doors, keypad gate entry, 24 hour access year around and many more amenities!